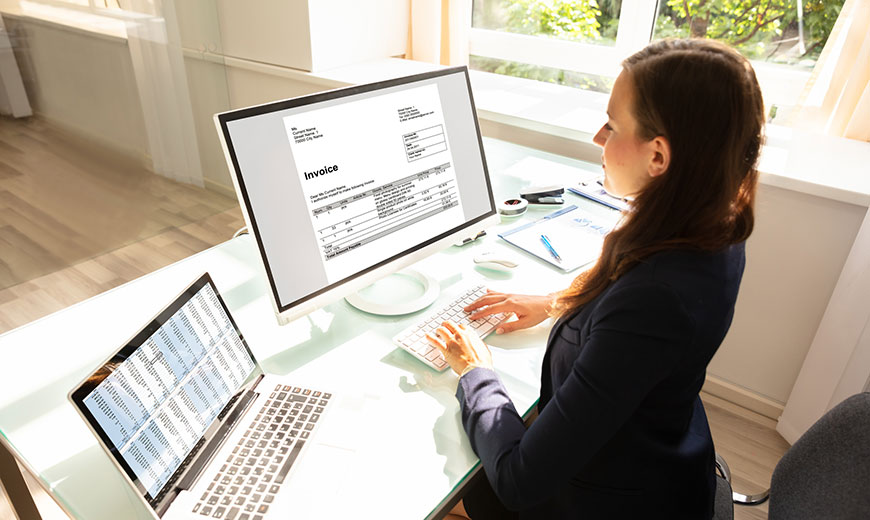 Best Accounting & Payroll Programs for Your Business
When it comes to running a business, software that can keep your accounting and payroll organized is a must have.
These programs can aid in decreasing human error, automate processes to increase productivity and turn focus to other priorities, while creating one place for all accounting and payroll documents to live.
We've put together a list of some of the best accounting programs and top payroll programs based on company size, to better inform you of the options you have. If you don't see something that fits your needs, it may be time to speak to a software development company to see if a custom program is right for you.
Best Accounting and Payroll Programs For For Freelancers
1. Wave Accounting
This free program features solutions for invoicing, billing, accounting, payment tracking, payroll and finance management, and receipts.
You can also link your bank account or PayPal account for real-time transaction records.
Best Accounting and Payroll Programs For Small and Medium Businesses
1. Intuit QuickBooks Online
This online program is considered the overall best option due to it's customizability, ease of use and flexibility to serve multiple industries.
It features tracking expenses, monitoring financial reports, sending payment receipts online, drafting invoices, bank reconciliation, creating recruiting invoices, tracking receivables, and configuring rules for payment reminders. There are also multiple security permission levels, and integration with other applications for importing data.
2. AccountEdge Pro
This program's usability and customization are unmatched compared to other desktop and cloud-based competition.
It features solutions for invoicing and quotes, purchase orders, banking, payroll, time billing, and e-commerce, the ability to create and track sales and purchases, manage contacts, as well as track and build inventory.
It offers a free 30-day trial for users who may want to test the product out before committing.
Best Accounting and Payroll Programs For Large Businesses
1. Sage Intacct
This program is cloud-based, and good for those well-versed in accounting and related processes as it can take a fair amount of knowledge to master.
It features accounts payable, accounts receivable, general ledger, cash, order, time, expense and revenue management, project accounting, built-in reporting and dashboards, and multi-entity consolidations.
It can integrate with other business applications such as payroll, CRM and POS systems based on what your business needs to leverage.
We specialize in Sage 100 and Sage 300 integrations!
Take a look at our custom integrations and see if these fit your business' needs!
Learn more about Custom Sage Development
2. QuickBooks Enterprise
This program can be scaled to fit a company's needs because it is so customizable.
It features employee management, inventory, payroll, purchasing, sales, and reporting, tracking fixed assets, direct credit card transactions, automated billing, custom reports, and combined reports.
The program also offers automated tax deductible expenses and integration with Microsoft Excel for expanded reporting capabilities.
3.

Oracle NetSuite OneWorld

This is a web-based program can integrate with a company's back-office, sales and service processes.

It also features solutions for financial accounting, payment management, financial reporting and analytics, supply chain and inventory management, order and billing management, custom process workflows and CRM capabilities.
4. Acumatica
One unique feature is its non-user-based pricing structure which can accommodate growing companies.
This program is web-based and features general ledger accounting, accounts payable, accounts receivable, enterprise resource planning, inventory and cash management, time tracking, sales/purchase orders, expense claims and reporting and CRM capabilities.
Payroll Specific
1. ADP
This web-based payroll program is suitable for any size business.
It features reporting, tax filing and expenses, state unemployment insurance, poster compliance, pay stub viewing for employees, time tracking, new employee reporting, automatic deductions and earnings, garnishment services, and multiple payment options. It also integrates with other payroll software such as QuickBooks.
2. Paylocity
This program is web-based and suitable for any size business however it is only available in the United States.
It features solutions for benefits administration, payroll, self-service portal for employees, time/labor and talent management, custom reports, core HR reporting, tax services, and evaluation of compliance with the Affordable Care Act (ACA). It also integrates with third-party vendors We specialize in ADP and Paylocity integrations!
Take a look at our custom integrations and see if these fit your business' needs!
Learn more about Custom APD and Paylocity Integrations