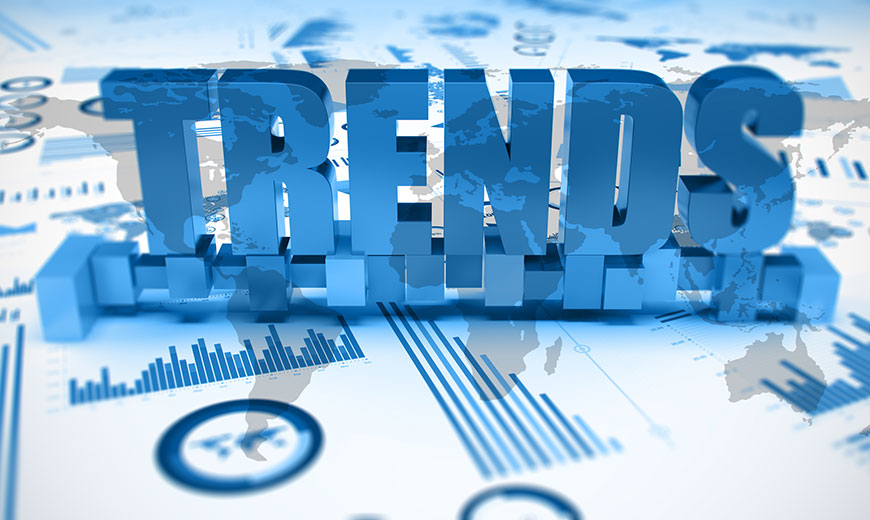 Top Software Trends for 2018
We've developed a lot of software this year. As we close out 2017, we don't see an end in sight these custom developments.
There is still massive growth in the software industry and tech analysts are spending even more time trying to fashion their predictions of the road ahead. So what are the next software trends?
It should be no surprise to learn that major platform-level shifts are changing the way we use hardware technologies and the software that drives them.
The so-called Internet of Things (IoT) and all the devices, sensors and higher-level machines that populate it have given rise to many new software services, ever-spiraling growth of data analytics and a new renaissance for Artificial Intelligence (AI) and the machine learning systems that make AI happen.
Workflows, templates & operational blueprints
The one word we have probably used more than any other when looking at the road ahead is automation.
As we have said before, this is not automation in the shape of robots and automatic vending machines (although it is that too), this is automation in the shape of software that can be driven on an automated level to behave in defined prespecified ways based upon a knowledge of what has worked before, elsewhere.
That automation intelligence can even be brought to bear by organizations using datasets, workflows, templates and operational blueprints that have been learned in other firms. Once data has been appropriately anonymized, obfuscated and generally neutered, its engineering excellence (if it has any) can be applied by others. Check out our blog on workflow automation here.
Would you sell your data set or query for a competitive advantage?
Chief technologist at cloud computing data processing company Databricks, Matei Zaharia thinks that this scenario will soon lead to more firms offering to sell their datasets to other firms who will seek to buy them for competitive advantage.
"Although we already have some of this activity happen in some verticals where organization's workflows are somewhat similar due to the nature of the processes being carried out, we are going to see this spiral into all industries with a massive growth in organizations offering real-world intelligence to other enterprises for a competitive edge.
Users will pay by the data set or query — and the previous difficulties around data cleaning, processing and machine learning will be eliminated because we will be doing so much of this stuff," said Zaharia.
The upshot of this core trend should mean that the number of data scientists grows. Indeed, we might even suggest that more and more companies will now work to establish data science departments, like they have human resources, like they have finance, accounts and operations admin departments… and so on.
Built of the cloud, in the cloud and for the cloud
We know that automation (in the respect depicted above through data intelligence) will be key in 2018, but what else is on the road ahead?
FIRST OFF, WHAT IS THE CLOUD?
It's a term we generally use to describe servers in datacenters pumping computer processing, storage and data analytics power to the machine in your hand, over the Internet.
Looking to the immediate future we will now find an increasing amount of software being built to operate on a cloud native basis, that is – being built of the cloud, in the cloud and for the cloud. Remembering once again that there is no real cloud, the age of cloud native is finally here.
In the cloud native era we use software that is not necessarily engineered to work on the machine we are physically touching. Instead, software is built to run in the datacenter on any number of machines, for your choice of:
Whichever is most available
The best cost for functionality
The best optimized system for a particular type of job
Most convenient in terms of challenges caused by geographical distance
Essentially, software developers can build the best system, for the lowest cost and minimize the barriers associated with the build by building on the cloud.
Then, once we complete the engineering in the background, the computing service will be executed on the machine you hold in your hands.
We're making it easier for you to see your raw data in a visual interface and dashboard.
We will also see a more prevalent use of abstraction layer technologies in 2018, that is – software that takes lower level raw data or functions and presents it to users through intuitive (meaning you don't need an instruction manual) visual interfaces and dashboards.
WHY BUSINESS DASHBOARDS?
Software developers' tools are changing to include "abstracted, machine-learning functionality."
Also, software consumers, especially C-suite manager level, know A) that this is possible and B) how much it can help their productivity.
Going cashless
Other key trends will include the software systems we are building to enable the cashless society.
"In 2018, we will see consumer demands shift ever more towards the digital, with a particular impact on the banking sector. Where cash was once king, it will continue to fall from favor, while more and more consumers will seek the most convenient digital services for transactions like money transfers and insurance. This will have advantages for banks, in reducing the cost of physical infrastructure to support coin handling and the need for branches to provide services. However, it will also lower the barrier for entry for new challengers, meaning banks will have to compete with challengers and even financial services from organizations in other markets," said Michael Keegan, head of product business for EMEIA region and chairman UK & Ireland at Fujitsu.
But not everyone is happy about this new trend. Journalist Ross Clark wants us to stand back and consider the wider implications of the cashless society. While it might be good news for software application developers' Business Intelligence (BI) apps, what about us as individuals? Clark's book The War Against Cash argues that commercial interests want us to pay electronically in order to track our movements and potentially restrict our future freedoms.
Not every element of abstraction and automation is good news from everybody's perspective, it seems.
Business lessons from the software industry
To wrap up this slice of predictive pie then, we could probably keep listing the ways in which a hundred major mechanical elements of the software industry will change next. Perhaps it would be better to consider how the business world will shape itself to be more like the software industry?
When we talk about Agile in software we use a capital A to denote the Agile Manifesto, a set of principles designed to drive software development in the always-on world that we live in. In 2018, we will see an increasing number of business departments openly labeling themselves as Agile team operations.
Senior Vice President for IoT product & engineering at Hitachi Vantara, Rich Rogers agrees. He says that 2018 will be the year that many corporations begin to bring Agile software development principles and best practices into the hardware design and manufacturing process.
"10 years ago, a typical software release would take 12 to 24 months. Many software development teams now push code into production daily. The pace of technology will accelerate and hardware manufacturers will utilize incoming [IoT and other] data around how products are being deployed and consumed, regional needs and vertical industry insights to directly influence how products are being designed and manufactured in a more real-time manner. Just-in-time manufacturing will not simply be which options that a vehicle needs, it will begin to influence the options themselves," said Rogers.
In 2018, we will make even more software – that's a safe prediction.